There is a common misconception that mosquitoes eat blood, but this is actually not the case. Mosquitoes eat nectar and plant sap. This is one of the reasons they hang out in the vegetation around Austin homes. So why do they bite? It has to do with reproduction. A female mosquito needs protein to create eggs. She gets the protein she needs by acquiring a blood meal from mammals. One of the mammals female mosquitoes draw blood from is humans. If we were the only mammals female mosquitoes came in contact with, the risk of disease would be far less. This is because most mosquito-borne viruses are zoonotic. This means that microorganisms in wildlife are picked up by mosquitoes and spread to humans. These are important facts to understand. Here are a few reasons why.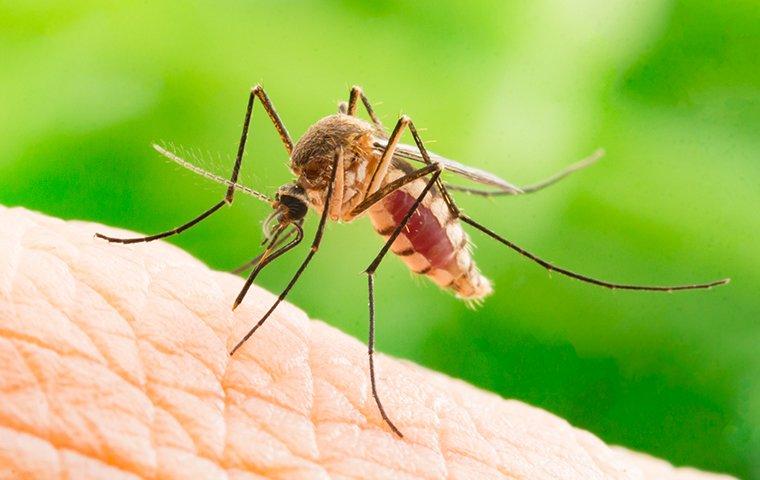 Endemic Diseases
There are many diseases that can be spread through contact with mosquitoes. You're probably familiar with most of them. In the United States, we see outbreaks of many mosquito-borne diseases such as malaria, Zika virus, dengue fever, and more. These are important diseases to track as they can cause severe or fatal symptoms. Fortunately, the fatality rate of mosquito-borne viruses in the United States is significantly low compared to many other countries in the world. Malaria, as an example, claims the lives of more than 750,000 people annually. Less than 20 people die from malaria in the U.S. each year. The diseases that concern health officials most are diseases that have a reservoir in local animal populations, such as West Nile virus (WNV) and Eastern equine encephalitis (EEE).
Mosquito Attractants
When considering mosquito attractants, you, your family, and your pets are not nearly as responsible for mosquitoes being drawn into your yard as the vegetation in your yard, particularly flowering weeds. If you have lots of little weeds with flowers, those will attract mosquitoes and other insects that eat nectar. Removing these weeds can help make your property less interesting to mosquitoes and other pests.
Moisture also plays a part in attracting mosquitoes to your property. The skin of a mosquito can dry out quickly in the sun and air. When a mosquito comes into your yard, it is going to hide in moist vegetation. You can reduce this as an attractant by taking a few steps to keep your landscape vegetation dry.
Give your plants only the water they need.

Water your plants in the early morning.

Trim bushes, shrubs, and other plants to prevent dense areas that capture moisture.

Remove unnecessary weeds, grass, and other vegetation.

Fix damaged gutters and clean out areas of your gutter system that are clogged.
Mosquito Control
There are many products that Austin residents use to get control of mosquitoes. When you consider purchasing these and putting them in your yard, keep in mind that only female mosquitoes bite and that female mosquitoes are motivated by their reproductive instinct. They won't be deterred by a candle, torch, or the smoke from a campfire. They may not even be deterred by mosquito repellent that has been unevenly applied to your body. If a female mosquito can find exposed skin and it can survive long enough to get a blood meal, you could get bitten.
To further explain how motivated female mosquitoes are to get a blood meal, consider the use of a bug zapper. If you install a bug zapper in your Austin yard, you could open that zapper up and find dead mosquitoes. But research shows that zappers are only effective at killing male mosquitoes. Those are the ones that don't bite. Female mosquitoes can be drawn into your yard by a bug zapper but there is little chance you'll kill female mosquitoes with one of these devices. So a bug zapper works to increase mosquito problems, not stop them.
Breeding Site
Since female mosquitoes are the problem, one of the best ways you can get control of mosquito activity in your Austin yard is to remove stagnant water resources. Females lay their eggs in stagnant water by the hundreds. The mosquitoes that bite you in your yard are almost entirely mosquitoes that have hatched in your yard.
Address conditions that allow rainwater to pool on the ground.

Remove objects from your yard that collect rainwater.

If you have a bird feeding, install a circulating pump to keep the water moving.

If your kids have a kiddie pool, empty the pool out at least once a week when your kids haven't been playing in it, or turn the pool over and leave it empty between uses.
Professional Mosquito Control
There is no better way to get control of mosquitoes in your yard than to invest in professional mosquito control. If you don't want to have to think about mosquitoes, reach out to Bella Bugs to learn about our seasonal mosquito fogging service. This fogging service provides routine treatments every three weeks to keep your property protected. To keep mosquito activity to a minimum, connect with us today.