Eliminate Mosquitoes & Take Back Your Austin Yard
Warmer months mean an increased amount of mosquito activity. This activity wouldn't be such a problem if they weren't so inclined to bite everyone and leave behind itchy welts. Unfortunately, they do this because it's how they manage to grow and reproduce. While an itchy welt is annoying enough, the real problem lies in the significant threat mosquitoes present to mankind.
It's not just the possibility of needing to scratch all of the time that makes mosquitoes so troublesome. They're also vectors for a wide range of diseases, which can severely harm people. Most often, these diseases are transmitted through a mosquito bite. Some of the most common diseases transmitted by mosquitoes in the United States include West Nile virus, eastern equine encephalitis, and Dengue fever.
Other parts of the world have to be concerned with other illnesses such as yellow fever, malaria, and chikungunya. These additional illnesses are why you should always be careful during international travel. Unfortunately, these diseases cause a range of symptoms and reactions, which makes standardized treatment currently impossible.
Our Mosquito Control Offerings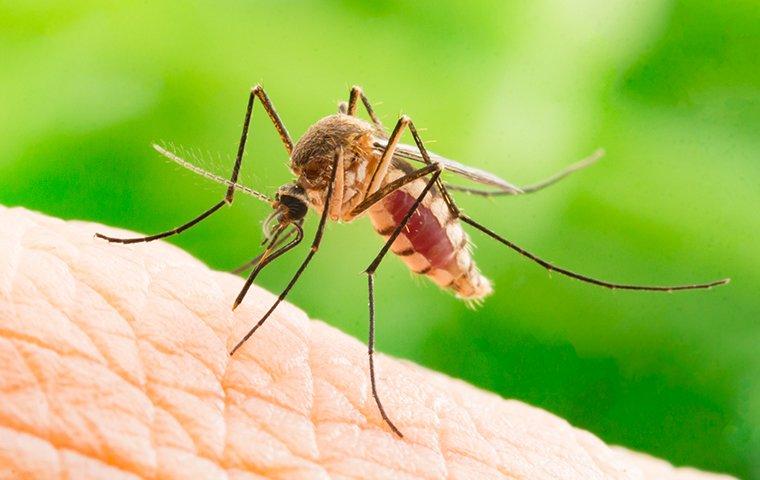 Mosquito problems never start in the home; they start in your yard. That's why it's important to practice good lawn care, which is a surprisingly effective approach to mosquito control that can be done by anyone. However, for real effective mosquito control, professional attention is needed.
Our pest management professionals work with you to determine your needs while delivering guaranteed results thanks to our highly developed mosquito control program.
When treating your property, we use backpack misters to spray the entire property. Within these misters are two products: flying insect kill product and IGR. We do not use foggers to combat the mosquito population.
Our team believes in a thorough approach, which is why we treat the entire front and back yard every three weeks. Also, we treat any standing water present on the property. As part of our mission to empower our customers, we provide education on mosquitoes so you can take back your yard even if we're not there. Whether you need a one-time treatment or recurring services, we have you covered every step of the way.
Mosquito Prevention Tips
Keep your entire body covered when outdoors.

Avoid being outside at dusk and dawn.

Practice proper landscaping.

Maintain your window screens.

Invest in a pool and hot tub cover if applicable.

Inspect and maintain your gutter system.
Do you have pesky mosquitoes on your property? Contact Bella Bugs for reliable mosquito control, and take back your yard!
Why Professional Mosquito Treatment Is Essential Around Austin, TX

Mosquitoes thrive under two conditions: high heat and high humidity, something many areas around Austin have in no short supply for most of the year. This means that, as a home or business owner, your property is almost always at risk for mosquitoes and the painful, even dangerous bites they bring.
Mosquitoes are a difficult, sometimes impossible pest for the typical home or business owner to eliminate working on their own. There are numerous ways you can minimize your risk of getting bitten while spending time outdoors, but if mosquitoes have infested the lakes and forests surrounding your property, there's only so much you can do. That's where professional pest control comes in.
At Bella Bugs, we can not only treat your mosquito problem safely and effectively, but also address the conducive conditions around your home that attracted them. Partnering with Bella Bugs for mosquito management services starts you on your way toward a permanently mosquito-free property. Contact us today for more details on how a mosquito treatment program from Bella Bugs, along with an ongoing residential pest management program, can help keep your home pest-free today, tomorrow, and beyond.
Frequently Asked Questions
Request Your Free Inspection
Complete the form below to schedule your no obligation inspection.