Protect Your Austin Property From Termites
If you catch a single termite out in the open, it doesn't seem like too much of a problem. In fact, termites can be mistaken for ants at first glance. However, termites are a lot more trouble than they're worth for both residential and commercial customers. Without fail, termites operate within a colony. The sheer numbers allow this harmful pest a nearly unmatched ability to disrupt people's everyday lives. As temperatures warm up, termite season begins. When this happens, not only do termites become more active, but they also do what is known as swarming. Swarming is an activity performed for the sole purpose of creating new colonies.
Benefits Of Termite Protection & Inspections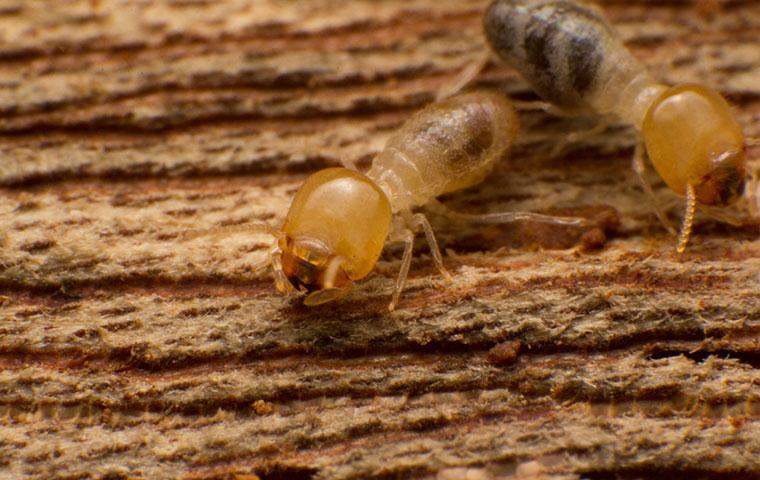 Termites are one of the many Wood-Destroying Organisms that pose a clear and present threat to all property owners. Our Experience as termite exterminators can help you avoid problems with both pre-construction and post-construction treatments. At Bella Bugs, we offer:
Subterranean and drywood termite control

Formosan termite control

Termite baiting and treatments

Annual inspections for termite damages

WDO Inspections, that help real estate sales

Survey and evaluation of your termite problems
We back up our Austin termite control products and services with a renewable service agreement. You simply can't find better Austin termite control for your home or business.
Our Termite Control Process
Fortunately, termites don't present a direct threat to people. However, where their real impact lies is in the damage dealt to your property. Termites never stop eating through the wood that makes up your home or building, which can lead to severe structural damage that is costly to repair. That's why it's best to use professional termite control services to address the problem whenever you discover termites.
True termite control requires a concentrated effort that considers every concern that termites bring. At Bella Bugs, we've worked hard to develop an effective process that delivers the results you need.
You can break down our termite treatment process as follows:
Termite Inspection
Interior - We perform a wood-destroying report to identify the full scope of impact of your termite infestation.
Exterior - Our pest management professionals perform an outside inspection that covers the whole property and foundation.
Advise - Once we've collected our findings, we share the results and prescribe the recommended treatment to address the problem.
Termite Treatment
Termites are not just another bug to spray and no over the counter solution or do-it-yourself plan can ever be certain of eliminating them – let alone exterminating termites. Our Experts knows all about termites, how to treat them, and help prevent future infestations year-round. Our treatments include the use of bait stations, trenching, rodding, and topsoil spray. We customize our approach to your needs, wants, and budget.
Follow-up Service
We understand how critical it is to stop termites. No matter how well built, homes and offices are threatened by termites because typical insurance policies offer little or no coverage. Treating and conducting follow-up treatments against termites is paramount to Bella Bugs. We don't take our results at face value, we follow-up in three months to determine treatment effectiveness. When requested, we'll make additional visits.
Satisfaction Guarantee
At Bella Bugs, we believe in our top-notch professional experts and Termidor's effectiveness. We offer an unconditional re-treatment guarantee on your home or business and its contents, based on the nature of your termite problems.
Signs Of A Termite Infestation
The best thing to do to avoid termite problems is to identify the signs of an infestation before it becomes a big issue. This identification isn't always easy for untrained individuals to accomplish. However, by knowing these signs, you'll be able to stay on top of things.
Here are four signs of a termite infestation in your home:
1. Mud tubes
Termites make these tubes to reach a food source on the home's exterior without being exposed to the elements.
2. Hollow wood
Termites eat wood, which creates a hollow sound. If the wood has this sound, then you likely have a termite problem.
3. Blistered wood
This blistering is often mistaken for water damage, but could be a sign of termite infestation.
4. Shed wings
Termites leave their wings behind after swarming. If you notice wings near the doors or windowsills, this could indicate you have termite swarmers present on the property.
Do you have destructive termites eating your home? Contact Bella Bugs for immediate termite control services today!
Request Your Free Inspection
Complete the form below to schedule your no obligation inspection.